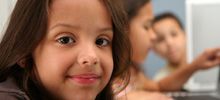 Welcome to "Navigating Health" with California Coverage & Health Initiatives
It is "All Hands on Deck" as the date fast approaches when nearly every Californian will have the opportunity for quality, affordable health coverage thanks to Obamacare. California Coverage & Health Initiatives (CCHI), with member organizations across California, has invested years into serving the needs of diverse, low-income communities and is stepping up to answer that call. At this historic moment when opportunities for coverage and access to care are greater than they have ever been, it is our responsibility to pave the way for millions of Californians to connect with coverage that is affordable and the best fit for them.
Enrolling record numbers of children and families is going to be a heavy lift requiring the creative and collaborative efforts of government, private industry and community-based service providers. Toward that effort, the federal Centers for Medicare and Medicaid Services (CMS) honored CCHI, along with five of our member organizations, as a recipient of a Children's Health Insurance Program Reauthorization Act (CHIPRA) 2013 "Connecting Kids to Coverage" Grant. The award is designed to intensify outreach and enrollment efforts in seven of the highest need counties in the Central Valley and Inland Empire, bringing health coverage to uninsured children, particularly in Latino communities.
Our enrollment counselors will help uninsured families learn about their current Medi-Cal coverage options for children, as well as new coverage options on the horizon through Medi-Cal and Covered California. They live in the communities they serve, speak the language and are trusted resources. Our member organizations and enrollment counselors will leverage the power of local and statewide Spanish language media campaigns, as well as coordinate outreach efforts with the Building Healthy Communities sites in Fresno, Kern and Eastern Coachella Valley, to reach uninsured families in these targeted regions.
These efforts make a difference for families across California. Families like the Herrero's whose teenage son, Eduardo, found out during a visit to a local community health center that he had a heart murmur and would need valve surgery to survive. This kind of news would send any parent into a tailspin of worry, especially if the family was uninsured. The specter of a seriously ill child coupled with the fear of a crushing financial blow from medical bills are a parents' worst nightmare. Luckily, the mother remembered a staff person from the Children's Health Initiative of Kern County she had met at a local outreach event a few months earlier. She called the offices to see if they could help, and to her great relief an enrollment counselor determined Eduardo was eligible for California Children's Services and immediately got him enrolled. Within weeks, Eduardo had lifesaving heart surgery, is now recovering and has a bright future ahead of him.
We are counting down to October 1 when open enrollment starts, ramping up our efforts to reach families who don't yet have the peace of mind that quality, affordable health coverage brings. We look forward to making that peace of mind possible for thousands of families. With so many families like Eduardo's living without health care, CCHI will be on deck, side-by-side with our partners in the coming months, working hard to make a difference in the lives of California families.
Suzie Shupe
Executive Director, CCHI