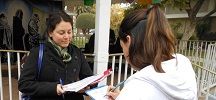 California always seems to be at the edge of change and innovation. Nearly two months into the debut of the Affordable Care Act's Open Enrollment period, Californians have proven once again that we can lead the nation, forging a new path and applying our entrepreneurial spirit to the challenges that we encounter.
In mid-November it was announced that since open enrollment started on October 1, close to 60,000 individuals have been able to successfully enroll in the health insurance options offered by Covered California and that 334,027 applications have been started. Additionally nearly 72,000 individuals were found eligible for Medi-Cal. In the month of November, the number of individuals has nearly doubled to. These numbers, along with the close to 2,000 able to enroll in affordable health care each day since, relay a clear and convincing message: Californians are very interested in affordable, quality health coverage and they are getting themselves enrolled.
With so many interested Californians, organizations at the local level across the state are stepping up to help children and families access affordable coverage by becoming Certified Enrollment Entities (CEEs) and Certified Enrollment Counselors (CEC). Covered California announced that there are now 513 Certified Entities and 1,408 CEC's ready to help Californians. These counselors are located where these families live, work, and play, ready to answer questions and help them get covered.
CCHI statewide network of outreach and enrollment organizations are right in the middle of these efforts helping families to get insured, some for the first time ever. At El Concilio, a new CCHI member organization in the Central Valley, there are CECs on the ground doing enrollments today and in the next few weeks they will have nearly 50 CECs helping families.
Yamilet Valladolid, a Site Supervisor at El Concilio, shared with us what this time in health care means for her community, "Getting to make this difference, meet this real need for our children and families is a game changer for us. We are able to help these families make sense of what can seem like a confusing process and they get to walk away knowing they can access medical care that they can afford, when they need it. This is a new experience for many families and we are so excited to play this role in enrolling children into coverage."
We know for ObamaCare to be truly successful the work must continue for as long as it takes to enroll all who need insurance. It would be unfair to say that there are no challenges in reaching everyone and getting them in the door. But the momentum of outreach and enrollment is just starting to build, it is propelling us forward, and CCHI's statewide network will not rest until coverage is a reality for all.