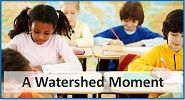 By Suzie Shupe, Executive Director, CCHI
CCHI staff shared a moment of anticipation on a recent Thursday afternoon as we hovered together around a computer monitor, fingers crossed, collective breath held. It marked an historic moment for CCHI and our entire network of members across the state. CCHI's sponsored bill, AB 2706 (Hernandez) aimed at using public school registration as a way to connect children and their families to health coverage options passed the Assembly floor with a vote of 57-20 and now moves to the Senate.
We've long known how powerful schools are in conveying important information to parents about their children's education and health. Parents care about their kids' futures and rightfully trust schools and often respond to messages and opportunities that schools send their way. CCHI's members have been working in schools for over a decade helping connect parents with coverage for their children. CCHI is also part of the All In 4 Health Campaign where we partner with a range of organizations all aimed at helping schools learn how to get kids, parents and even school employees enrolled in health coverage. And if AB 2706 passes and is signed into law, schools will have a new tool to help kids stay healthy and be primed for success in the classroom.
More than one million California children remain uninsured, including close to 700,000 children who are currently eligible for public health coverage, but not enrolled. What better place to go to find these children and help them get enrolled into health coverage than school? AB 2706 would do just that. If passed by the Senate and signed by the Governor, all public schools in California will provide information during school registration to parents about affordable health care options available to their children and how to connect with an enroller.
Sponsoring a bill through the California State Legislature that has the potential to make a measurable difference for children's health is not only an honor, but it is also quite an experience! We have had the chance to work closely with a range of organizations making sure the bill language and purpose is as well rounded as it can be. Supporting and, in a way, chaperoning AB 2706 as it progresses has taught CCHI a great deal about the importance of our relationships and the collective desire in California to do right by our children.
With over a million of our children still uninsured, California cannot afford any lost opportunity to reach parents and help them get their children and themselves enrolled. AB 2706 will create tens of thousands of additional opportunities each year to bring the peace of mind health coverage affords to families across the state.
For more information on AB 2706 please contact Autumn Ogden at 916-404-9442.