By Maria Romero-Mora, Program Coordinator, CCHI
As we approach the second Open Enrollment (OE2), we know we need to polish up our outreach and enrollment skills and learn the best strategies to assist uninsured Californians in getting covered. That is why California Coverage & Health Initiatives (CCHI) recently partnered with Enroll America to host a rather unique 3-day in-person intensive training for enrollment staff.
Distinctive to this training was that it focused on techniques that challenged enrollers to develop new skills, and then immediately put them to work out in the community using that new strategy. We learned how to use Enroll America's Get Covered Database to find local areas with higher rates of uninsurance, and then actually go out in the community to talk directly with families by canvassing door-to-door. In less than 4 hours training participants were able to engage with many families this way and prepare about 70 people for enrollment. Conversations with families ranged from talking about the basics of Obamacare, Covered California, and Medi-Cal to specific health plan coverage benefits. You name it, organizers were addressing it, and in a friendly, engaging way. A particularly useful strategy for advocates was learning how to do on the spot story collection, getting family stories about the importance and meaning of health coverage right then and there.
We had assisters and direct supervisors from across the state attend, including San Diego, Riverside, Palo Alto, Sonoma, Yolo, Sacramento, Kern, Fresno and others to learn from each other and share outreach and enrollment strategies. The wealth of knowledge in the room was eye opening. Everyone had something unique to share about how to reach and enroll kids and families into coverage. It seemed as though getting away from our desks and focusing on putting our best ideas on the table allowed for more productive planning and greater energy leading into OE2.
One participant said, "I loved the collaborative essence of this training and the chance to create and build our own plans and get feedback from our peers." Everyone walked out of the training with a fully developed outreach and enrollment work plan for OE2 that is tailored to their communities and resources, with clear steps to carry out the goal of getting people covered.
CCHI and our network of assisters stand ready to meet families where they are and empower them to become active members in their own health and their communities. From start to finish, we are here for kids and families.
Check out some photos and more feedback from the event trainers and participants:
"I was thrilled with the diversity and enthusiasm of the participants in this training. Their passion and commitment to our underserved populations drove the training. The training team – Maria Romero-Mora from CCHI, Edgar Aguilar from the Community Health Initiative of Kern County, Flannery Hauk from SEIU-UHW and Lisbeth Espinosa from Good Health 4 California- were instrumental to the positive, engaging and participatory nature of this training." – Nicole Oehmke, Enroll America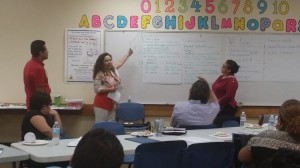 "I will implement the Action Plan along with my co-workers. I don't think we would have this plan ready had it not been for this training." – Participant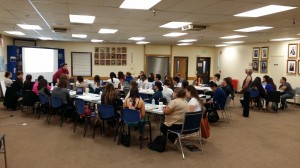 "The most valuable part of the training was talking to other community partners about what works and what doesn't. Learning from their experiences." – Participant